We set another page to just link out discussions and articles that we felt might be of interest and possibly educational in the heavier arrow and trad archery topics. Check it out periodically as we add things as we find them.
We have found these and other links useful in researching additional information on Archery, Hunting with Traditional Equipment, trip planning and more...
www.tradgang.com
www.bowtote.com
www.bows.net
www.tradbow.com
Other links with good information on shot placement, general education and archery ethics:
http://www.idahosportsman.com/
Pope and Young Club
Professional Bowhunters Society (PBS)
United Bow Hunters of Illinois (UBI)
Compton Traditional Bowhunters

QDMA.com Momentum Beats Speed for Lethal Arrow Hits
Archery Links for Beginning Archers -
Good information to get you started...
NEW Ed Ashby - Compton 2014 - Keynote Presentations and Stories from The Old Derelict. We compliled Dr Ed's slides and his presntation at Compton for this interesting story telling. Dr. Ed relates some of his youth and also in part 2 he relates some enjoyable stories he told under the pen name The Old Derelict. Watch for this forthcoming book under that title.
Part 1 Early Dr Ed
Part 2 Stories from The Old Derelict
New from our friend David Peterson (Elkheart)...
At long last, Belgian filmmaker Christopher Daley has unleashed our little documentary on the world. This link will take you to the film page on my book sales website, and includes a 2+ minute trailer. http://www.davidpetersenbooks.com/dvd-david-petersen.html
I continue to struggle to "position" the film in my own mind, as well as for reviewers, sales etc., but for now have settled on, first, "A hunting film for non-hunters," and second and more subtly, "One man's attempt to explore and accommodate existential angst in conspiracy with nature." On a deep personal level, it is my best attempt—with generous cooperation from the filmmaker—to honor my beloved partner Caroline and the amazing life we forged and enjoyed together.
Clay Hayes at TwistedStave.com has a continuous stream of educational, entertaining and very well produced videos on archery, back country hunting, and other outdoor pursuits that you will want to subscribe to and bookmark in your browser.
His most recent production has been a long time coming. The film first debuted at the 2014 Backcountry Hunters Anglers Rendezvous in Denver and received a standing ovation from the crowd of a few hundred hard core hunters. Since then it's toured around North America with the Hunting Film Tour and has been getting great reviews. It is now available on YouTube. Clay speaks to the heart of why we hunt. This is a hunting film like you've never seen before...


The RanchFairy... a.k.a. Troy Fowler tested the MeatHead on hogs and provided this very supportive review of the Ashby Reports and our TuffHead/Meatheads here on his website .
He also has a number of very interesting discussions on hogs, hunting, archery and more on his youtube channel.



-----------------------------------------------------------------------------
Other Products we've used, tried and think you'll enjoy...
IN-Glaze Imagery - Check this site out for a new way to preserve the image of your trophy. Have an image made on your coffee cup and start out the day with good thoughts and memories!



David Petersen Books... including A Man Made of Elk and other good reading
www.davidpetersenbooks.com



Custom Long Gun, Pistol, Bow, Kinfe and Fishing Rod cabinetry -
Amish crafted quality, custom storage solutions for the discrimination sportsman


Custom Longbows & Recurve Bows- Gold Medal winners & hunters choice. Near Winnipeg, CA. for 25 years. Legendary craftsmanship. Classic and hybrids.

Dryad Bows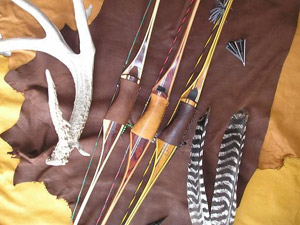 Joe Blake and Prairie Longbows
Jim Hills Spine Tester- you can build this yourself with a little patience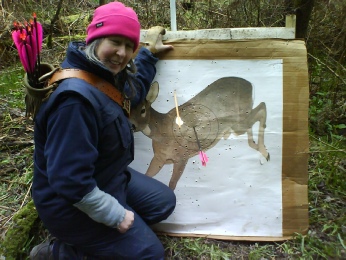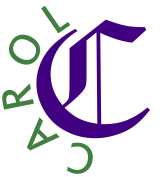 I met Carol and Mick, along with many other great people, while attending a archery shoot in Ireland in 2007
Check out her web site it is interesting. There is little to no hunting in Europe but there is a great interest in traditional bows and field archery (3d targets) .They are great promoters of the sport.
Carol is 19 times NAFS champion

http://www.carolarchery.com
General Hunting Education Info...

Did you know that both male and female bison have horns? To learn how to field judge bison visit

http://wildlife.utah.gov/hunting//bison/bison_orientation.pdf
Honest-Food.net - books, recipes and other good information for the hunter, fisherman or gatherer

Good information on Photography Tips for preserving the memories of your hunt....
BAREBOW! by Dennis Dunn
BAREBOW! is a personal account of Dunn's 40-year odyssey to harvest all 29 huntable species of big game in North America, ranging from Whitetail Deer to Tule Elk to Grizzly Bear.


In hushed tones of awe, patience and appreciation, Dunn takes his readers into the wild and woolly wilderness areas of North America. Remarkably, Dunn's odyssey began as an unmentored boy's interest in archery. His dream of joining North America's elite bowhunting fraternity of those who have taken North America's Super Slam would come much later. In BAREBOW!, outdoor writer Dennis Dunn teams up with two renowned wildlife artists, Hayden and Dallen Lambson, to produce an eye-catching and stirring account of North American wildlife, their habits and habitats, and the enduring connection made by one man in tracking, hunting and harvesting the North American Super Slam with a bow and arrow.

Breathtaking in its illustrations and spellbinding in its storytelling, BAREBOW! is the must-have addition to every hunter's den, great room, or bedside table. Available in our shopcart.
http://www.animatedknots.com

How good are you with knots? Every outdoorsman or woman has a reason to use rope and a good knot is always handy. One just might keep you safer in your tree stand. Here is a great site we found, animated visuals and great tutorials on hundreds of useful knots.
B

Reference Room